The Orange Dive Watch Is Now An Old Fashioned Watch, And We Love It!
How Aquatico Old School Orange Dive Watch Became A Cool New Timepiece
When you're looking to buy a dive watch, there are so many things you need to consider before you choose which one to buy. There are plenty of brands out there that will make you look like an action hero, but the ones that stand out are a different story altogether.
 A great watch is often one of the most expensive pieces of clothing you can own. But it's also one of the most important items on your wrist. So why spend $250+ for something that looks good? That's where the Aquatico orange dive watch comes in!
With a classic, unique and elegant design and a bold and bright orange dial, Aquatico new edition takes the original classic dive watch to new heights. Will make a statement at your next watch party.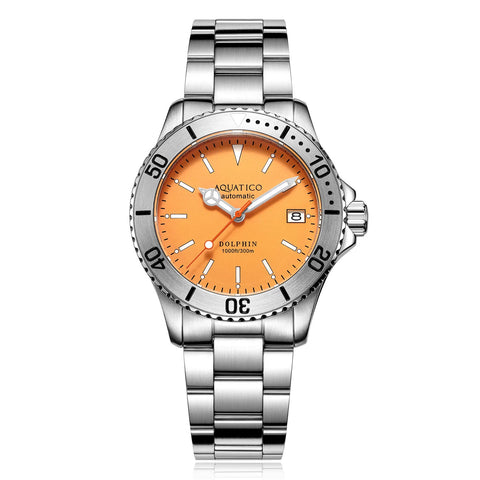 Introducing the new and improved "Aquatico Orange Dive Watch"
We're proud to announce that our newest watch collection is now available! While you may already own a dive watch, the Aquatico orange dive watch is completely different than anything you've seen before. Our newest collection is a mix of vintage and modern styles inspired by the golden era of diving watches. We're excited about the design of these watches, but we're even more excited to hear what you think about this collection.
The new watch is made with a stainless steel case, an antique-style dial, and a high-quality leather strap.
Let's just start with the fact that the Aquatico Orange Dive Watch is an amazing timepiece. But we also know that it's not your average dive watch. It's a bit different from the standard diving watch with a unique dial, bezel, and crown configuration.
With its retro styling and classic appeal, the Orange Dive Watch is now an old-fashioned watch, and we love it.
1. The History of the Orange Dive Watch
The history of the orange dive watch is fascinating. The idea came to American diver George S. Patton while he was swimming in the Pacific Ocean during World War II. The diver noticed that his watch was slowly sinking into the sand. He had the watchmaker, Mr. Henry, made a special version of the watch with a dial made of orange color. The idea was to get the watch out of the water quickly. The first of these watches were sold in 1947. 
Aquatico Orange Dive Watch as a new age brand in the orange dive watch follows the design of orange, but brings out the luxury of the new trend.
2. Why the Aquatico Orange Dive Watch?
The orange dive watch is meant to be a fun piece of dive watch, a serious timepiece. The watch is a tribute to the orange dive watch that Calvin designed for his company. The Aquatico Orange Dive Watch was designed to be a celebration of the dive watch in all its glory. A splash of color, fun style, and the unmistakable style of a dive watch. It's a reminder that anything is possible when you go down to the depths of the ocean.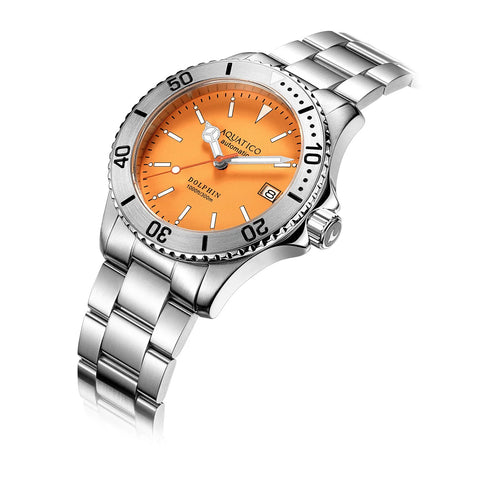 3. Designing the Orange Dive Watch
It's a new breed of watch: the dive watch. Unlike any other watch design, dive watches are designed specifically for water diving and are built for endurance. They're not only able to withstand the elements (i.e., saltwater), but are also typically more stylish and easier to read than other dive watches.
Aquatico uses their unique design style to create unique watches that stand apart from the competition. Their watches combine a blend of classic Swiss design elements with a contemporary and creative approach to the watchmaking world. Each collection is a reflection of the brand's design direction, which aims to deliver products that speak to its customers' lifestyle.
4. Why Choose an Aquatico Orange Dive Watch?
Many people like orange watches, but the majority of these watches are usually made of plastic and are not durable enough to be used as diving watches. The Aquatico orange dive watch is made of stainless steel, waterproof to 1000 meters, and scratch-resistant. Because of the metal used, it is more durable than those made of plastic. In addition to its durability, the aqua color is more appealing to most divers than the more traditional orange colors.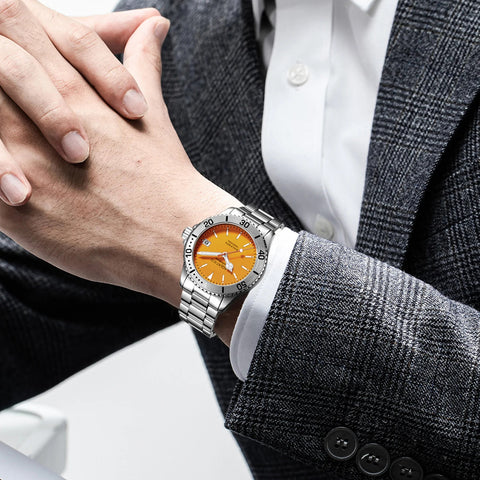 5. What makes the Aquatico Orange Dive Watch so unique?
Aquatico uses a combination of high-end materials to produce watches that are not only practical but also beautiful. They combine the qualities of high-end luxury items with modern design, making it a product that will stand out in a crowded market. The company uses a titanium case and luxury orange dial. It is hand-assembled, and it even comes with 2 years warranty.
6. When Should You Wear an Orange Dive Watch?
The question that follows is whether or not you should wear an orange dive watch on your wrist while diving. The answer is simple – yes, but only if you are planning on getting up to see how deep the water is. If you're wearing an orange dive watch and you start to panic because you can't feel your feet or you don't know where the surface of the water is, you may end up with a very expensive watch that is now a useless piece of watch.
The answer to this question is easy if you have access to the answer: You should wear an orange dive watch to promote safety when scuba diving or snorkeling. An orange watch has become a symbol of safety because of its distinctiveness in color. Other divers can easily tell an orange watch wearer from a non-orange watch wearer. And, if a diver isn't wearing an orange watch, it means that they aren't taking safety seriously.
Conclusion: 
In conclusion, if you are an avid diver, and looking for something that'll go with your wetsuit, take a look at the new Aquatico Orange Dive Watch. In fact, we've got a pair for you in the link below.